About Us
Experienced
Referenceline was founded in 1997, at a time when you had to dial up to connect to the internet and the service was slow and expensive. We began with advertisements in the newspaper, promoting our phone number 0870 870 1000. We would then post a copy of the printed reviews for each firm to the consumer. The internet has made all of that much simpler, but some things haven't changed. Back in those days, a printed freepost form was the only way to collect reviews and even today these still remain the most popular and effective way to encourage customers to respond.
Approved by Trading Standards
We have been approved members of the Trading Standards Buy with Confidence scheme since 1999. We provide the feedback for a local authority Trading Standards good trader schemes in Dumfries & Galloway, Dundee and South Ayrshire.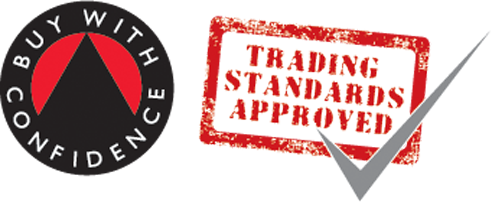 The Highest Rated scheme
The National Consumer Council gave us the highest rating of any comparable scheme in their 2000 Trading Information report. This was a long time ago and much has changed since then. A decade later, we would welcome a similar independent review.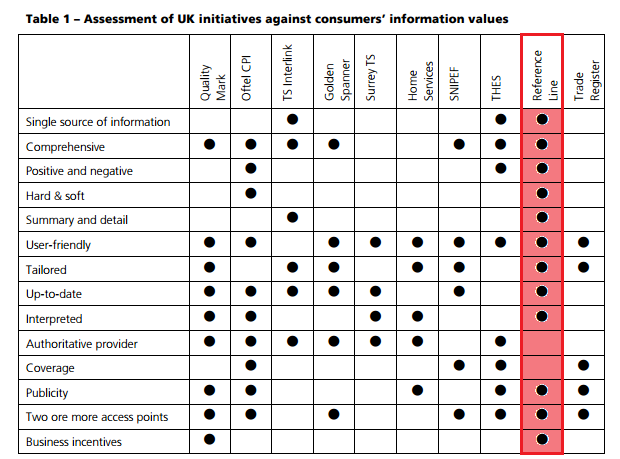 Trusted
Referenceline's reports have been used by the Property Ombudsman for 10 years from 2003 to 2013 and by the British Association of Removers since 2006 as monitoring for the Consumer Codes Approval Scheme operated by the Office of Fair Trading, now known as Approved Codes and operated by the Chartered Trading Standards Institute. [Note that Referenceline is not a TSI Approved Code].
Safe
We moderate every review and we don't accept vulgar language. We can all be tempted to be rude when we are angry or frustrated and we occasionally receive reviews which are simply rude or vulgar. When this happens, we will try to contact the consumer and ask them to rewrite the review in more moderate language. If this is not possible, then will publish an edited version, making it very clear where the text has been edited. We do not hide reviews just because the customer is angry.
Fair
We understand that customers aren't always right, and in our work with Trading Standards we ask them to look into the very few isolated cases of reviews that may seem very harsh or out of keeping with the what we have previously known about the business. Where Trading Standards advise us that the review should not be published, after their own investigation, then we follow their instruction. Referenceline's independence prevents us from making these judgements, which is one of the reasons that we recommend and support Trusted Trader type schemes which allow for this separation of responsibilities.
Patient
We hold complaints for 10 working days and we encourage both parties to resolve their issues. This gives the customer time to make sure that their comments and ratings are fair and reasonable and it gives the firm a chance to speak to the customer to see if anything can be done to resolve the issues.
Independent
Over 98% of the feedback we receive is positive, recommending the firm concerned, but you can read the complaints as well, even if the firm doesn't agree with the customer. We publish every review, unless subject to review by a higher authority such as the Court, Trading Standards or an Ombudsman. Organisations such as The Property Ombudsman, The British Association of Removers, The British Compressed Air Society and many Trading Standards schemes want to demonstrate that their members have high standards. They understand that consumers might not believe what they say about their own members, so it makes sense to ask someone independent to keep a record of all the reviews.
Transparent
We want you to be confident that we don't edit your reviews, so we show your original handwritten comments on our site. We also think it's more interesting, even if they are a little hard to read sometimes!
Supporting Trading Standards